Because the Opel Corsa will receive a facelift in 2023. These photos do not yet show that it will probably be quite drastic … The diesel versions will disappear, but there will be an Opel Corsa mild hybrid.
The Opel Corsa, now the sixth generation, came on the market at the end of 2019. After more than three years, it is already getting a facelift. That is fast, while his introduction was somewhat delayed. Opel had just become the property of PSA Peugeot-Citroën, and the French were diligently tinkering. The existing plans were stopped and the Corsa was placed on the platform of the Peugeot 208. An electric Opel Corsa-e was also immediately introduced.
The Opel Corsa is very popular in the Netherlands and is the 4th best-selling car.
Grille visor for Opel Corsa

The facelift of the Opel Corsa (2023) is quite drastic. It gets the new Vizor grille, which is inspired by the Opel Manta A and has been the Opel face since 2020. This means that the headlights become thinner and that a small notch has been made under the logo on the beautiful black grille. At the back you have to look better to see the differences with the current Opel Corsa, but pay attention to the somewhat darker taillights later.
Inside, the Corsa will have a large touchscreen for operating the infotainment. The number of security options and multimedia options are also increasing. Add some obligatory new colors to that and the Corsa is as fresh as a Rüsselsheims fiddle again.
Opel Corsa hybrid
We can expect minor adjustments in the motor area. To reduce CO2 emissions, the Opel Corsa will probably be available as a mild hybrid. Until now you could also order the Opel Corsa with a diesel engine (although hardly anyone did), but that will most likely disappear from the price list with the facelift.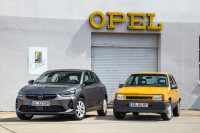 When will the Opel Corsa (2023) come exactly?
Do you want the latest of the latest and are you eagerly waiting for the facelifted Corsa? The Opel Corsa with visor grille is expected at the dealership in spring 2023. Of course, the price is not yet known.
At the moment, an Opel Corsa with a petrol engine costs 21,499 euros, the electric Opel Corsa-e costs 33,999 euros. If such an electric and facelifted Opel Corsa-e sounds like something to you, you can turn to the government for a subsidy of 2950 euros – if the jar is not finished by then … The first 30,000 euros applies to the business driver in 2023 an advantageous addition rate of 16 percent.