Many electric cars have one pedal driving. However, Porsche does not like driving with one pedal. That has a little bit to do with the driving feel, but mainly with the power consumption. Because if there's one thing Porsche drivers care about, it's economical driving…
Just a little refresher course: one pedal driving means that an electric car slows down when you let go of the accelerator. Completely stopped. In this way you recover valuable energy and it is possible to drive around with only the accelerator pedal. You only use the brake pedal in an emergency.
Porsche does not believe in one pedal driving
Driving with one pedal is a nice feature of many electric cars. But Porsche does not believe in it and that has to do with power consumption. Because – so the Stuttgarters argue – when the car starts to brake automatically when you let off the gas and you have to use that same energy again to accelerate, energy is lost twice in the process.
How should it be done according to Porsche? By disconnecting the electric motor(s) when releasing the accelerator pedal and letting the car roll out. According to Porsche, this is a more efficient and natural way of driving electrically. It ensures that the kinetic energy remains in the vehicle, according to the Germans. In addition, Porsche emphasizes that this way of driving comes closer to driving with an internal combustion engine.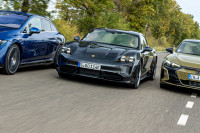 Braking on the electric motor
Letting the car roll out virtually friction-free is useful on the highway. In the city, you want to brake vigorously on the engine and recover energy. The Porsche Taycan can of course also do that and Porsche indicates that about 90 percent of the daily braking takes place on the electric motor. The remaining 10 percent is accounted for by the regular brakes. Only those can bring the car to a complete stop.
Gas pedal on the floor
We find it striking that Porsche insists on economical driving, because we have never been able to catch a Porsche driver using The New Driving. Have you ever seen a Taycan driver release his accelerator pedal at 105 km/h so that the car gradually slowed down to the speed of the vehicle in front? Or was the accelerator on the floor, then he hit the anchors and swung smoothly around the pale blue Suzuki Alto in the right lane?