The Hyundai Seven is built on the E-GMP platform, as are the Hyundai Ioniq 5, Kia EV6 and Kia Concept EV9. The design of the large SUV is minimalistic, with no lines and folds too much. The pixel lighting is striking, as we also know from the Ioniq 5. The glass rear cover is beautiful, but it will probably not survive the step to the production stage.
Hyundai Seven is in theory fully autonomous
Because at the moment the Seven is still a long way from that. He has suicide doors, a futuristic interior with a corner sofa, swivel armchairs and a control stick in the armrest of the driver's seat. The latter folds away when it is no longer needed. Because, as befits a study model, the Seven is in theory self-propelled.
Coronaproof interior with antibacterial fabrics
Car manufacturers apparently have the idea that in the future we will spend our time in the car en masse, because Hyundai also prides itself on the 'lounge interior' of the Seven, with a special storage compartment for shoes, a built-in refrigerator and atmospheric ambient lighting. The cabin does not get dirty so quickly, according to the designers, because an antibacterial substance has been applied to all surfaces.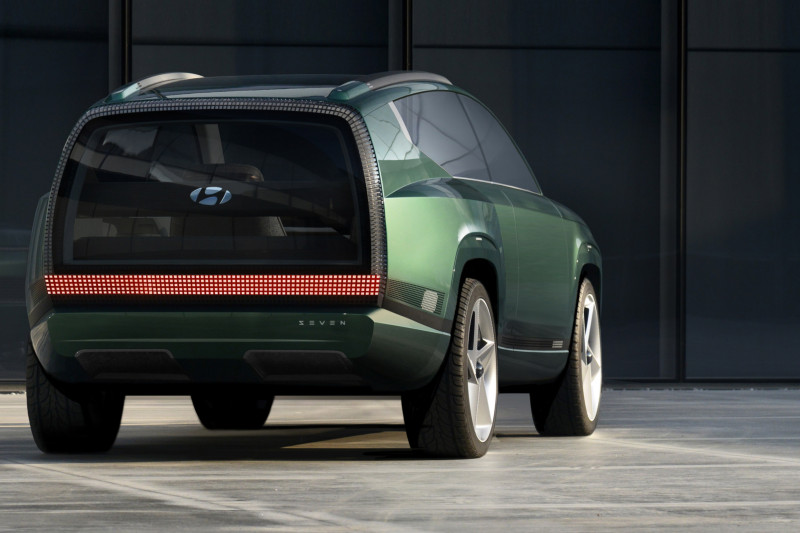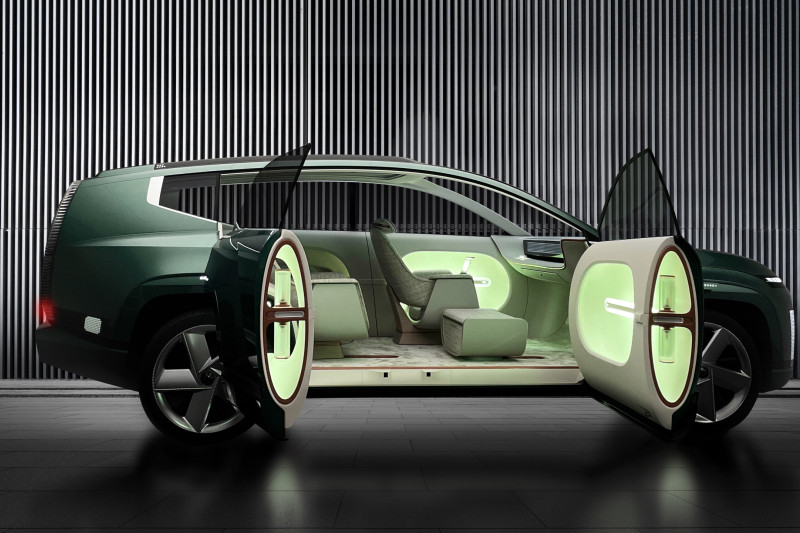 The Hyundai Seven an absolute charging champion
As with the Kia EV9, Hyundai does not make any announcements about the electric powertrain of the Seven. The study model has been developed for a range of 485 kilometers and has the same 350 kW charging technology as the EV9. By way of comparison: the fastest charging car at the moment is the Porsche Taycan / Audi E-Tron GT with 270 kW. According to Hyundai, the Seven is already 80 percent full after 20 minutes.