Now that the Renault Espace – one of the most famous MPVs – has been transformed into an SUV, we take a look back at (predecessors of) this genre. Once upon a time, practical MPVs were hard to come by, but they are now threatened with extinction.
1. Fiat 600 Multipla (1956)

What a golden age the 1950s must have been for car designers. No one cared about safety or crumple zones anymore, so you were in the Fiat 600 Multipla even if you were not a bomb pilot, always with your nose on the bumper of the vehicle in front. You should not have too high expectations of the comfort on the small seats on top of the front axle. Yet the concept is well thought out; the 600 was only 3.53 meters long, weighed 700 kilos and nevertheless could carry six people in it. The engine was placed in the back.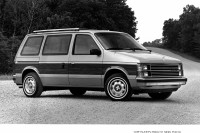 Action
Compare your car insurance

Compare your car insurance now and receive a 20% discount on all car insurance policies via UnitedConsumers! This saves you up to € 175.00 per year.
2.Chrysler Voyager (1984)

One of the most successful American cars of the 1990s and 2000s. From 1990 to 2007, 1500 to 2000 Voyagers were sold in the Netherlands each year. Together with the Espace, he had the MPV empire almost alone at that time. Especially the first two generations (1984 and 1991) were typical no-nonsense vans with their angular design. Until 1988 you had to import the Voyager via gray import. In the US it was also for sale as Plymouth Voyager and Dodge Caravan. Voyager's career fizzled out; he spent his final years (2011-2014) wearing a Lancia badge.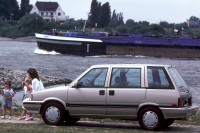 3. Nissan Prairie (1982)

This Japanese beacon of light (note that huge rear window!) is almost extinct in the Netherlands and what a shame that is. The Nissan Prairie did not do fashion whims and unnecessary design frills, but offered exactly what you wanted from a family car. Plenty of space, practical sliding doors and folding rear seats: you could hardly get closer to automotive happiness in 1982. The Prairie resembles the Lancia Megagamma concept car that Giugiaro drew in 1978. Owner Fiat did not dare to take the revolutionary MPV – nobody knew the concept at the time – into production.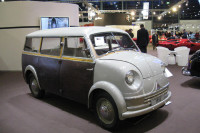 4. Lloyd LT (1952)

Not all German car manufacturers were successful in the early 1950s. Take this bus from the forgotten Lloyd brand, which was owned by Borgward. The motoring press was ruthless about the Lloyd LT: its suspension comfort, steering and non-synchromesh gearbox gave rise to sour bits even by the standards of the time. To make matters worse, both heating and ventilation worked moderately. The two-cylinder produced 13 hp. If you were in the car with six people, you could be happy if you reached 60 km / h. Successor LT 600 (1955) was already slightly better, the power was no less than 19 hp …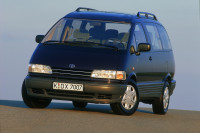 5.Toyota Previa (1991)
A sporty driving car with mid-engine and rear-wheel drive, then you think of one Toyota MR2 than to an mpv. But it is indeed the specs of the Previa. The Japanese had only one sliding door and was only available with a 2.4-liter four-cylinder until 1995. If you see this large MPV with its striking design as an occasion, then you have an affordable car that can count on increasing applause from connoisseurs. Keep in mind that simple maintenance work such as replacing the spark plugs on the Previa is quite a difficult job. To do this, you must first remove the passenger seat.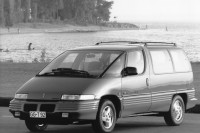 6. Pontiac Trans Sport (1990)
The more we look at the MPVs of the 1990s, the more we regret that the genre has such a dull image. Take this Pontiac Trans Sport, which was for sale in the Netherlands from 1990 to 1996. The Trans Sport had a window section that would thrill any window cleaner and was available with a four-cylinder in-line engine (137 hp) or V6 (173 hp). It was a (late) response from General Motors to the success of the Chrysler MPVs, but the Trans Sport never came close to the sales numbers recorded by the major competitor.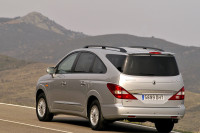 7. SsangYong Rodius (2004)
Is there a car model that got more ridicule than the SsangYong Rodius, with that weird dormer window on the back? But just like with the bullied boy with glasses, crooked teeth and red hair, with us compassion eventually wins over mockery. We're not going to write anything ugly about the Rodius anymore. And so we tap with dry eyes that the design (by the renowned Briton Ken Greenley) is inspired by a luxury yacht. And did you know that the name is a combination of the words Road and Zeus (the Greek supreme god)? Whatever SsangYong wants to say: with the Rodius you are the king of the road. Cheers…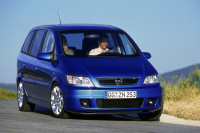 8. Opel Zafira OPC (2001)
The ultimate attempt to take the MPV's sporty reputation to the next level came from Opel. What if we give the good-looking Zafira a 240 hp engine with which it can beat larger cars from prestigious brands? Then he gets a sizzling tint. The Zafira OPC could reach 231 km/h and sprinted to 100 km/h in 7.8 seconds. For more than 42,000 euros you got the key to the seven-seater, which was a relatively modest amount. But yes, it remained an Opel. And a Zafira. And an MPV.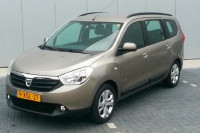 9. Dacia Lodgy (2012)
Life doesn't have to be all about sheer beauty. Have you ever sat on designer furniture by Gerrit Rietveld? That armchair of your elderly mother is actually much more comfortable, isn't it? Such a feeling evokes the Dacia Lodgy also on. It makes no effort to seduce you with its looks and is simply functional. Seven people have to sit as spacious as possible, and no crazy design tricks are appropriate for that. In the Netherlands, the Lodgy was a flop, with rarely more than 300 registrations per year.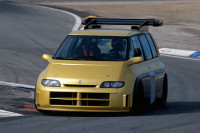 10. Renault Espace F1 (1994)
When a successful model has been around for ten years, you can treat yourself. Built in 1994 Renault F1 and Matra convert an Espace into an extremely sporty MPV. This Espace borrowed the V10 from the Formula 1 car of world champion Alain Prost. The block was good for 800 hp and 705 Nm. No car could keep up with him on the hundred sprint, because the Espace V10 only needed 2.8 seconds. And the top speed? Above the magical limit of 300 km/h. The Espace F1 did not go into production, it remained with this one fascinating model with ceramic brakes and a carbon fiber body.