The Toyota Prius used to be a purely rational purchase. The new Prius Plug-in Hybrid is not only economical, but also unexpectedly fast. So you can also buy it for fun. At least, if fun is allowed to cost something…
The Toyota Prius was once the shining hybrid example in the petrol and diesel darkness. Well, so saw Toyota in any case, and the Japanese underlined that with a matching, striking design. Not everyone appreciated that. You didn't buy the first mass-built hybrid because of its tough image either. But in the end, Toyota was right and the hybrid powertrain was widely followed.

Craving for more Prius news? Keep an eye on our free newsletter!
Tough, cool Prius

All the more reason to continue to distinguish your appearance. The new Prius does that too, but now in a positive sense. In short, it is like a Prius III that an elephant accidentally sat on. A trunk pat for Jumbo, because after 25 years there is a tough, cool Prius. Low, wide and with a coupe-like roofline. Compared to its immediate predecessor, the new Prius is 4.6 cm shorter and 5 cm lower. The wheelbase (+ 5 cm) and width (+ 2 cm) actually increased.
Watch your head!

When getting into this power Prius, you have to be careful not to bump your head against the low, sloping A-pillars. Instead of a dashboard with the instruments in the middle, the Prius now has a high-placed info display on the driver's side. The positioning is reminiscent of Peugeot's i-Cockpit. The center front position is reserved for a large infotainment screen. This not only scores with its fairly intuitive operation, but especially with the physical buttons below it. This way, vital functions are always within reach. Yet we also have a point of criticism: we have to search a long time for the volume control for the navigation system.
New Toyota Prius only with plug
The endearing-looking Prius I was a 'normal' hybrid and the same was true for its successor. A plug-in version was not available until the third edition. The new Prius is also available as a regular hybrid, but only the plug version is for sale in Europe. With its system power of 223 hp, it is more than 100 hp stronger than its predecessor. The battery (13.6 kWh) is of an extra light and efficient type and provides a WLTP range of 86 kilometers for the Prius on 17-inch wheels. This translates into a WLTP fuel consumption of 0.5 l/100 km, or an incredible 1 in 200.
Prius less economical with tough wheels

Those who opt for the Executive version, or the Solar Edition that we drive, get beautiful 19-inch wheels. But that tough light metal also gives you a bit of consumption pain. The electric range drops to 72 kilometers and in terms of fuel consumption, the ship strands at 0.7 l/100 km (1 in 142.9). Plaster on the wound: in sunny weather, the solar panel in the roof can provide more than 8 kilometers of extra range.
Unprecedented Prius performance

The character of the previous Priuses invited to drive quietly. The performance was not fantastic and if you pressed the gas a little deeper, the stepless transmission drove the four-cylinder uncomfortably high. With this power Prius, that's a different story. The powerful electric motor not only ensures that you drive off electrically, it also supplies enough torque for a lightning start. A sprint from 0 to 100 km / h in 6.8 seconds is unprecedented on the Prius scale. Intermediate sprints also run smoothly and only when you step on the gas like Leo van Lompenstein do you recognize something of the whoop character that characterized earlier Priuses. If you drive a bit normally, the two-liter four-cylinder – if it participates – is nice and quiet.
Regenerative braking could be more convenient

Like fully electric cars, you can regeneratively brake the Prius to recover electricity. For this you have to put the selector lever in driving position B, but if you want to adjust the degree of 'engine braking', you have to go to a menu in the on-board computer and that is inconvenient. You want to do this quickly, especially with changing traffic, with paddles on the steering wheel or with the selector lever itself.
Action
Compare your car insurance

Compare your car insurance now and receive a 20% discount on all car insurance via UnitedConsumers! This saves you up to € 175.00 per year.
Prius is a nice travel car

The chassis of the TNGA GA-C platform offers a nice balance of dynamics and comfort. Even the cobblestones in Hamburg's old harbor quarter are stoically handled by the Prius. When we take a wrong turn, the turning circle turns out to be nice and small. On winding roads, the steering is quite direct, without getting nervous. This sum of features makes the Prius a great travel car, at least for the front occupants, although the seats could offer a little more support to the thighs.
Disappointing space

In the back, the lack of headroom affects passengers above 1.80 meters and when boarding they have to be careful that the low roof does not give a headbutt. About the trunk of the new Prius, Toyota reports that it has grown by 33 liters compared to the previous one. But a capacity of 284 liters is still scant, especially compared to the Prius II, which could handle 445 liters of stuff.
Fuel consumption Toyota Prius (2023)

Given the almost fairytale consumption figures that Toyota provides, we are curious about our own score on our test route. Unfortunately, the weather conditions are cloudy and wet, and the solar panel collects raindrops instead of solar energy. Still, the first part of the ride works out favorably for the hybrid powertrain. We drive a lot in built-up areas and on provincial roads (up to 100 km/h), where we often recover braking energy. We do occasionally pull an intermediate sprint. The last part of the test route takes us over the autobahn.
There we go wild and approach the top speed of 177 km / h a few times. At the destination, the on-board computer indicates a consumption of 2.1 l/100 km (1 in 47.6). Pretty neat, we think ourselves, but the Toyota representative looks at us sparingly. We are not the worst heavy consumers, on the other hand, consumption figures have also been recorded from 0.9 to 1.7 liters per 100 km (1 in 111.1 and 58.8).
Loading times

Do you rarely drive more than 100 kilometers per trip and do you charge properly in the meantime? Then you can certainly come close to this in the Netherlands. Soon we will try it ourselves. Are there regular longer distances on the program? Then count on an average of around 1 in 50. Unless you have enough time to charge the battery in between. It takes four hours from empty to full. The poor charging capacity of 3.3 kW is to blame for that.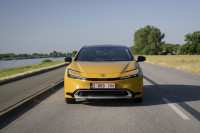 Prices Toyota Prius (2023)

If you see a new Toyota Prius driving soon, you know: there goes an enthusiast. Because with a starting price of 44,695 euros, this power Prius fishes in the same price pool as, for example, a fiscally attractive, fully electric Tesla Model 3. And the love of the (lease) car customer simply goes through the wallet. Another downside for the Dutch market is that the Toyota Prius Plug-in Hybrid is not allowed to tow a caravan. That probably condemns him to a supporting role here.
Toyota Prius private lease

In our private lease comparator we have an extensive Toyota offer, from Aygo X to Camry. A Toyota Prius private lease you via our comparator!