Max Verstappen drove the fastest time during the last practice session for the GP of the Netherlands. The drivers were presented with a wet Zandvoort circuit and treacherous conditions. Verstappen also made a mistake, but he eventually drove the fastest time.
Because Daniel Ricciardo broke his left wrist during a crash in the second practice session yesterday, Red Bull junior Liam Lawson gets the chance to make his F1 debut with the AlphaTauri team. Together with the other riders, he was immediately presented with challenging conditions.
After all, the rain predicted for this weekend had reached the Zandvoort circuit. In the rain, the drivers had to prepare as best they could for qualifying.
That means, in addition to looking for the limits of the car and the circuit, also trying to find the best possible driving line and grip. The fact that the conditions were very treacherous was evident from the many cars that went wrong and ended up next to the track.
Only about 15 minutes into the session we got the red flag for the first time. Kevin Magnussen had spun his Haas F1 car and came to rest against the wall.
When the session resumed we saw Charles Leclerc go wide in the first corner and just avoid the wall.
Halfway through the practice session, there was another red flag after China's Guanyu Zhou ended up in the gravel trap with his Alfa Romeo F1 car. A lot of lost time and treacherous conditions made this last practice session not an ideal time to prepare for qualifying.
The rain was a challenge for everyone, but the photographers enjoyed these conditions in which they were able to capture beautiful images of the F1 cars.
With about ten minutes left on the clock, we were red-flagged again, this time after debutant Liam Lawson lost control of his car in the final corner and made contact with the wall. Fortunately, the session could be restarted quickly.
In the end it was Max Verstappen who drove the fastest drive, of course to the delight of the home crowd.
George Russell was about four tenths slower in the Mercedes, while teammate Sergio Perez in the same car was exactly one second slower.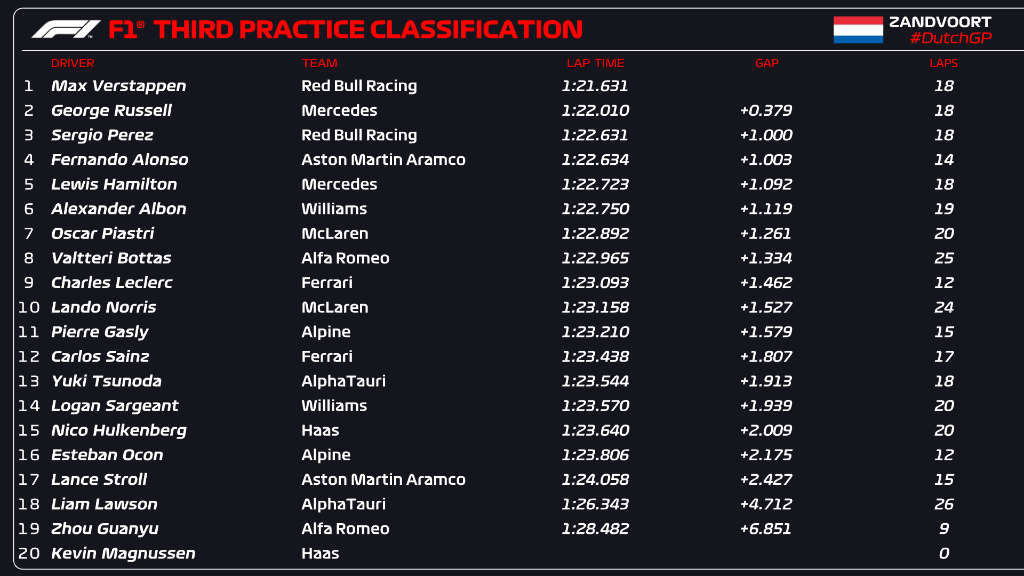 More F1 news:– VIDEO: This strange crash caused F1 pilot to break his wrist and miss the 'Dutch GP'– "I fear that Red Bull will continue to dominate Formula 1 until 2026"– Ferrari reacts: "Giving 2008 F1 title to Felipe Massa now would be strange"– Some F1 teams are worth billions: "Is that an exaggeration? I do not think so!"– VIDEO: This is the remarkable trophy for the winner of the 'Dutch GP'
(F1journaal.be)