According to EV skeptics, the battery electric car is a dead end. According to many of them, we will all be driving hydrogen cars in a while. Is there anything in this? Although BMW sees hydrogen as one of the options, it does not seem very sure. 6 questions and answers about hydrogen as a car fuel.
In its own words, the manufacturer has been testing the iX5 Hydrogen, the hydrogen version of the BMW X5, for four years. Nevertheless, the manufacturer will not start producing hydrogen cars until the end of this decade. Some time ago we took a test drive in a BMW iX5 Hydrogen. We wondered, among other things, why it has to take so long before BMW launches its first series-built hydrogen car on the market.
When will BMW's hydrogen car be in the showroom? As a newsletter subscriber, you'll be the first to know!
1. What are the advantages of hydrogen cars?
Just like a fully electric car, a hydrogen fuel cell car is emission-free. The BMW iX5 Hydrogen has a range of more than 500 kilometers and filling the hydrogen tanks is done in a few minutes. A battery-electric car cannot match that.
Action
Compare your car insurance

Compare your car insurance now and receive a 20% discount on all car insurance via UnitedConsumers! This way you save up to € 175.00 per year.
For people who drive long distances and/or do not have access to a conveniently located charging station, a hydrogen car is therefore an excellent alternative, according to BMW. Moreover, with a car that runs on hydrogen you are not dependent on the overloaded electricity network. Finally, a hydrogen car with a fuel cell only needs a small battery. And so it requires fewer precious and scarce raw materials than for a battery-electric car. It also saves weight.
2. How does a hydrogen car with a fuel cell work?

A hydrogen car contains a tank with hydrogen. By the way, there are two in the BMW iX5 Hydrogen. They are made of carbon fiber reinforced plastic and are concealed in the bottom. It contains a total of 6 kg of gaseous hydrogen under a pressure of 700 (!) bar. The hydrogen goes to the fuel cell, where the hydrogen reacts with oxygen. This generates electricity, but no CO2, nitrogen or particulate matter is released. The only thing that comes out of the exhaust is a little water vapour. In the iX5 Hydrogen, the 401 hp and 720 Nm strong electric motor is fed with electricity from the fuel cell – from Toyota – and a small lithium-ion battery, which is recharged by the fuel cell.
3. How environmentally friendly is hydrogen really?
Hydrogen is not a mineral that you can extract like gas or oil, but must be made. This requires energy. This can be electricity, but also oil, coal or natural gas. In addition, water is used in hydrogen production. In the Netherlands we make most hydrogen with natural gas. And you can already feel it: that is not possible without CO2 emissions.
According to Milieudefensie, the production of 1 kilo of hydrogen with natural gas releases no less than 7 kilos of CO2. This production method is referred to as gray hydrogen. It can be even worse if oil or coal is used for hydrogen production. So that doesn't exactly sound environmentally friendly. Fortunately, it can be a lot greener, with the help of electrolysis. If solar or wind energy is used for this, we are talking about green hydrogen. But it is still very scarce…
4. How much does hydrogen cost and where can you fill it up?

We drove the BMW iX5 Hydrogen near Amersfoort, where the Dutch company Fountain Fuel opened its first hydrogen filling and fast charging station some time ago. Fountain Fuel has big plans'; within two years it wants to have a total of 11 stations in the Netherlands. The next cities that Fountain Fuel will conquer are Nijmegen and Rotterdam.
"The production of 1 kilo of hydrogen with natural gas releases 7 kilos of CO2."
You can currently go to more than 20 other providers. Including in Groningen, Nieuwegein, Arnhem, Doetinchem and Amsterdam. There are between 250 and 300 public hydrogen filling stations throughout Europe. More than 100 of these are in Germany and just under 50 in France. The filling station density therefore still leaves much to be desired, but is steadily increasing.
So much for the good news. Because despite the green potential of hydrogen, it is still very expensive. This is due to the costly manufacturing process and because the infrastructure is still under development. Fountain Fuel aims for a kilo price of 10.95 euros. This would mean that you can fill up the BMW iX5 Hydrogen for around 66 euros. But the prices per kilo vary greatly, up to 17 euros per kilo. Then 6 kilos suddenly costs 102 euros. Set against a range of 500 kilometers, you will lose more than 20 cents per kilometer on fuel. Then petrol, diesel and electricity are much cheaper. And hydrogen cars are also quite expensive to purchase. The Hyundai Nexo in Toyota Mirai costs around 70,000 euros and this BMW will soon go towards 90 to 100 mille …
5. How do you fill up with hydrogen?
You used to hear a lot of scary stories about hydrogen about extremely high pressure and the risk of explosion. This suggests that you first have to call the fire brigade to refill the tank, but nothing could be further from the truth. Filling up with hydrogen is a piece of cake. The filling valve of the car and the filling nozzle on the tank hose generate car gas associations. You put the filling gun on the valve, press it until it clicks, squeeze the handle and you can release the gun. The tank is then full in 3 to 4 minutes. Sorry about the pain in the wallet.
6. Will we all be driving on hydrogen in a while?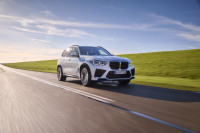 BMW indicates that it would rather not bet on the one horse of the battery electric car for a CO2-free future. Partly because the limited range and long charging times do not suit everyone. But also because the hydrogen infrastructure requires less investment. Dr. Jürgen Guldner (project manager BMW hydrogen technology) cites the German research center Jülich. The center claims Investing in a combination of a hydrogen infrastructure and an adjustment of the current electricity network is cheaper than doing everything possible to make the electro-infrastructure heavier for an entire BEV fleet.
In addition, we could import solar-produced, and therefore green, hydrogen via pipelines from Southern Europe and North Africa. Still, Guldner is wary. Because before the production of that environmentally friendly hydrogen really gets going, we will also be many billions and years further. And of course there must be a good hydrogen infrastructure. And that in turn must contribute to ensuring that there is sufficient demand from the market – or vice versa … The classic chicken-and-egg discussion.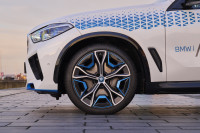 Opposing BMW's opinion are a lot of scientists who do not believe in hydrogen for passenger cars. They are of the opinion that all green hydrogen will be badly needed in the future for industry and for freight and shipping traffic. For that reason, they expect passenger cars to remain mainly battery-electric. And then it is no longer so strange that BMW introduces one new BEV after the other and waits for years before taking a hydrogen car into series production. At least, if the manufacturer takes that step …