For such a cheap electric car, the MG4 Electric has some surprisingly useful and advanced systems on board. We list 6 functions that make electric driving easier.
The MG4 Electric drives just like a 'normal' car with an automatic transmission, but it still takes some getting used to. Plugging in at a charging station is new and during long journeys you have to figure out the best time for a charging break. The MG4 Electric extracts as many kilometers as possible from a battery charge and ensures that the battery is charged as quickly as possible.
These 6 functions help with that.
1. Never drive too fast unnoticed
All versions of the MG4 Electric have adaptive cruise control. The smart speed controller helps you to drive more economically in two ways: you never drive faster than desired unnoticed and your speed is more constant. Because although the car recovers energy when you brake, it is more efficient to maintain a speed and not slow down or accelerate unnecessarily.
2. Choose your own driving program
The MG4 Electric has the usual driving programs Eco, Normal and Sport, but you can also compose your own driving mode. Like a variation of the normal driving program, but with weaker and more powerful energy recovery when you release the power pedal. It is very nice to be able to set the degree of regeneration yourself.
3. Always get into a heated or cooled car
The MG iSmart control app works with any version of the MG4 Electric. This allows you to heat or cool the cabin of the car from your phone before departure. This not only gives you a comfortable and luxurious feeling, it also makes a small difference in power consumption. Because cooling and heating takes energy and that power comes from the charging station or wallbox. Not from the battery.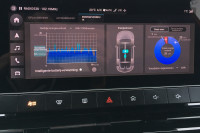 4. Faster fast charging thanks to battery heating
How many affordable electric cars do you know where you can switch on the battery heating yourself? Handy in the winter, if you want to bring the battery pack to the ideal temperature for the next fast charge. The fact is that batteries charge more slowly in cold weather. Driving warms up the battery pack, but the battery heating really speeds it up.
5. Heat pump for energy-efficient heating
The Luxury version heats the cabin with an energy-efficient heat pump. Such a heat pump extracts heat from the outside air (even when it is cold) and puts it into the interior. This modern way of heating costs (much) less energy than a conventional electric heating.
6. Power other devices with Vehicle-to-Load
How useful it would be if you could also use the power in the battery for other things. Such as charging your electric bicycle, or an electric BBQ at the campsite. Every MG4 Electric has this capability and it's called Vehicle-to-Load. Then you push an adapter with a normal socket on the end into the charging port of the car.