Do you remember the Mazda 121 from the early 1990s? You know, that little sedan that was soon affectionately called 'the bowler hat'? I was reminded of this while driving the latest Mitsubishi ASX…
My mother had a bowler hat: a dark green one with an electrically operated roll-top. She was as proud as a peacock. Funnily enough, the advertising slogan was 'every seagull's dream', referring to the ease with which this bird could soil the interior through the open roof. The Mazda 121 that came after it was actually a Ford Fiesta with a different logo. My mother never drove a Mazda again, she didn't like it anymore.
Clone of Renault Captur
My mother's Mazda 121 came to mind when I joined in a discussion during the press launch of the new Mitsubishi ASX. In fact, it is a clone of the Renault Captur. We therefore wondered whether copying a car is really that smart. Especially considering the huge budgets that car brands put into their brand identity.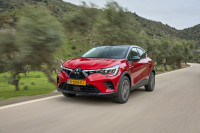 Yoko Ono
As often as Mitsubishi emphasizes that it has a rich history with SUV models and that the new Mitsubishi ASX is therefore a logical next step, the car is as French as Yoko Ono. Or, as someone on the Mitsubishi Netherlands Facebook page responded to the ASX: "I'll wait until a REAL Mitsubishi comes on the market again."
Annual turnover of 13 billion euros
Then develop a car yourself, you will say. But that is easier said than done, even though Mitsubishi is one of the highest earning car brands worldwide with annual sales of 13 billion euros. In Europe things have been a bit less lately and the money is not exactly splashing against the plinths. And to then invest a lot of money in a new model, only to discover that the European consumer is not enthusiastic about it again, is quite risky.
Whether the current ASX drivers will turn their backs on Mitsubishi remains to be seen. It's not the new Mitsubishi ASX, which drives just as well as the Renault Captur. But you can't keep pressing Ctrl C and Ctrl V forever. Then a car brand loses its identity, its customers and therefore its right to exist. My mother can relate to it.