You have all the reviews about the Volkswagen ID. Have you read Buzz and want to discover even more advantages and disadvantages? Then you've come to the right place!
Which aspect of the electric bus have we not tested?! I would like to refer you to our review of the ID. Buzz, the Volkswagen ID. Buzz range test and the backstory on fast charging with the ultimate electric family car.
But we haven't told you everything yet. Below you can read 3 advantages and 3 disadvantages about the ID. Buzz. Decide for yourself how they influence your opinion of the fun electric Volkswagen…
Benefit 1: No stress
The navigation system of the ID. Buzz is smart enough to automatically schedule charging stops along the route. But what do you consider a safe margin? You can indicate that yourself in the menu and that drives so relaxed.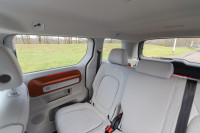 Advantage 2: Great all-round visibility
At a time when new cars have increasingly smaller windows, it is a relief to ride in a bus with glass all around. It's been a long time since we saw so much over our left shoulder.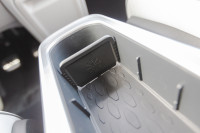 Advantage 3: Smart idea
The partition in the storage compartment between the front seats is secretly an ice scraper. There's a snowflake on the side, so it's not exactly a well-kept secret, but it's cleverly thought out nonetheless.
Disadvantage 1: Useless pull-out seat
The extendable seat is too low for our long thighs. That's because you can't tilt the seat. The chair does go up or down, but you cannot tilt the seat itself.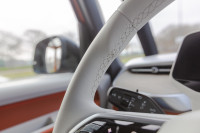 Disadvantage 2: Dirty fake leather
It's hard to put into words what the vegan leather feels like. Unpleasant. A bit dirty. And to think that the ID.3 facelift (2023) gets the same steering wheel cover. Bah.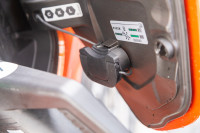 Disadvantage 3: Cheap clamp
It's never good either: we ask for a way to attach the charging cap during fast charging, we start complaining that the cheap plastic clip is too skimpy for a 70 grand car …