What is the best electric car? The Porsche Taycan has been proving since 2019 that an electric car can give you goosebumps. And then the Porsche Taycan Turbo Sport Turismo is also surprisingly practical.
Not so long ago your chin fell on the floor of a five-liter V8 with 500 horsepower and just as many newton meters, but in this company that's peanuts. In Auto Review 1/2023 we compare the Porsche Taycan Turbo Sport Turismo (680 hp, 850 Nm) with the Mercedes-AMG EQE 53 4Matic+ (687 hp, 1000 Nm) and the Audi RS E-Tron GT (646 hp, 830 Nm ). Online we focus on the qualities of the Porsche.
Handy trunk
With its horizontal roofline, the Sport Turismo version offers more headroom than the regular Taycan. Another advantage is the large tailgate, behind which you can store up to 1171 liters of luggage. Your down-to-earth neighbor with his Skoda Fabia Combi (1395 litres) laughs at it, but only 350 and 430 liters respectively fit under the sedan-like tailgate of the Audi and the Mercedes-AMG.
Read a car test every Friday?
Sign up for our newsletter!
Sublime suspension comfort
Air suspension with adaptive dampers is standard here – our three test cars leave nothing to chance when it comes to suspension comfort. No matter how pockmarked the road surface, these regal sports cars skilfully smooth the sharp edges. The Audi not only rolls smoothly over worn asphalt, but is also acutely done with it after the last ledge. Rest in the carriage and on. The Porsche also does not bother annoyingly. In fact, he barely budges anyway. When the Mercedes-AMG goes over bumps, the body moves more clearly during compression and extension.
Great seats
Audi occupants hear the most tire noise on the highway. The ears of Porsche drivers are pampered better, as is their bottom. The Taycan's adaptive sports seats have adjustable side bolsters, so that your upper body always fits perfectly on the backrest.
From 0 to 100 km/h in 3.1 seconds
What can you do with a sports car with so much electric horsepower? Catapulting yourself from zero to a hundred in a curse and a sigh. The front and rear axles each have their own electric motor that together pour a waterfall of forward momentum over you. The Porsche clears the standard sprint fastest (3.1 seconds).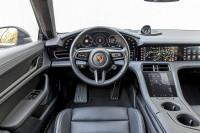 Not easy prey
Passengers who quickly become nauseous, but feel safe because the sprint is over and you now quietly hobble behind a truck, turn green again when catching up. The Porsche accelerates from 80 to 120 km/h in 1.7 seconds. And with a top speed of 250 km/h (Audi) or 260 km/h (Porsche), you are not easy prey for cars with a large combustion engine on the German autobahn.
Hero on the track
On the track, the handling characteristics of the Taycan Turbo Sport Turismo are to die for. Because thanks to the clever distribution of power and the limited slip differential on the rear axle, it also shows balanced and neutral steering behavior at the top of its capabilities. If you don't want to stop there, you provoke manageable upset. If it gets too much for you and you take your foot off the accelerator, the rear of the Porsche will pivot predictably until it's back in line with the front axle. The perfectly adjusted four-wheel steering also contributes to giving you maximum control.
313 to 429 kilometer range
At an outside temperature of 13 degrees Celsius, we measured a consumption of 26.7 kWh/100 km. With a usable battery capacity of 83.7 kWh, you can travel 313 kilometers on one battery charge. You can add a hundred kilometers to that by driving as economically as possible (19.5 kWh/100 km).
Conclusion
You want to experience electric driving to the maximum and have just won the state lottery. Then you buy the Porsche Taycan Turbo Sport Turismo from 163,400 euros (or 180,000 euros with options). Its stunning driving characteristics are combined with a high-quality interior and a convenient tailgate that enhances practicality.
You can read the full test in Auto Review 1/2023, which is for sale in the shop and can be ordered in our webshop.