ALSO READ.Lewis Hamilton wins crazy GP of Saudi Arabia after another collision with Max Verstappen, duo goes to final race with equal points
Hamilton, who eventually won the race in Jeddah, said he was quite surprised by Verstappen's maneuver. "I don't understand why he suddenly put on his brakes. I rode behind him and then he continued. Later I heard that he had wanted to let me pass."
Verstappen was given a 5-second time penalty from the race management for cutting the corner and then let his British rival pass. He was flagged second. "It's unbelievable what happened here today. I try to race. This sport is more about penalties than racing. This is not Formula 1 for me," said Verstappen over the on-board radio, after being told that he had been named 'driver of the day'. "Fortunately, the fans at least enjoyed it."
Not worth a look
When he had parked his Red Bull next to Hamilton's Mercedes in the pit lane, the two title rivals evaded each other. Also on the podium, Verstappen and Hamilton did not give each other a glance. After the cups had been handed out and the national anthems had been played, the Dutchman decided to leave the stage immediately. The Mercedes drivers Hamilton and Valtteri Bottas (third) did celebrate with a member of the Mercedes team.
"This was a race in which quite a bit happened," said Verstappen with a sense of understatement, after a race that included two red flags and two restarts. "A lot of things have happened that I didn't quite agree with. But it is what it is. I try to give everything on the track. Anyway, I tried. I wasn't sure at the end if my tires would hold. Nevertheless, I am still second."
If penalties are not forthcoming after the incident-rich race, Verstappen and Hamilton will both go to Abu Dhabi with 369.5 points, for the final race of the season. "It will be decided there. I hope for a good weekend."
Hamilton: "I wanted to drive as fast and wisely as possible"
Lewis Hamilton recorded his third win in a row in Jeddah and kept his title chances intact. But he also didn't quite understand what had happened. Hamilton was also dragged back and forth from one emotion to another. The race seemed lost when Max Verstappen saved a pit stop at the first red flag. Things looked bad again when the Limburger slipped through unexpectedly in the second restart. Virtually, in Abu Dhabi, Verstappen had enough of fourth place.
But then everything fell into place. In the second part of the race Hamilton's Mercedes was clearly faster and in the end that also resulted in the victory. Albeit not without a fight. "This was a very tough race on a track that is very exhausting both physically and mentally," said the world champion. "I was determined to race very hard and very sensible at the same time. It had to stay clean. But how difficult this was."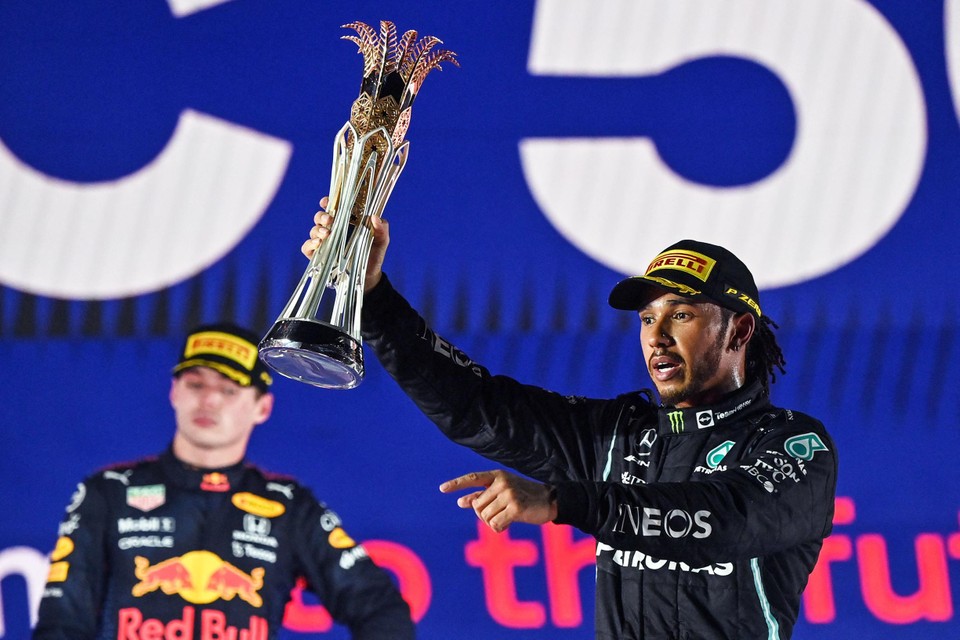 The most notable incident was the rear-end collision, in which Hamilton collided with Verstappen on the straight line. "Brake testing", was Hamilton's first judgment from the car. A filthy and dangerous trick where one unexpectedly goes off the gas to trap the other. "I did not understand. Only later was it explained to me that Max had been asked to let me through, after the first incident."
Hamilton now heads to Yas Marina, the circuit in Abu Dhabi, with equal points. This makes this weekend a success for him. But at the same time it is clear that the dominance of Brazil and Qatar is gone. Verstappen could have taken pole on Saturday with a four-tenth lead. On the same tires they were worth each other in the race. "They are so incredibly fast," Hamilton said of Red Bull. "But we are doing amazing things with the resources we have at our disposal. I am proud of my team."