An electric S-class, that's how you should see the Mercedes EQS. But under the skin, the two models have nothing to do with each other. The EQS sits on a special electric platform, which will also be used for the upcoming EQE, EQE SUV and EQS SUV. For the time being, the EQS is available in two versions: as EQS 450+ and as EQS 580 4Matic+. Later, Mercedes also introduces an EQS 350 and a 763 hp AMG version.
Mercedes EQS 450+ with a range of 770 kilometers
The Mercedes EQS 450+ is rear-wheel drive, has a 333 hp and 568 Nm supplying electric motor and a battery capacity of 107.8 kWh. It goes to 100 km/h in 6.2 seconds and reaches a top of 210 km/h, but of course the range is much more important. According to Mercedes, it is at a maximum of 731 kilometers. Charging is possible on an 11 kW wallbox (10 hours charging time) or with a charging capacity of up to 200 kW on a fast charger. The battery is then 80 percent full after 31 minutes. A 22 kW charging option is also optional. This shortens the wallbox time to 5 hours.
Mercedes EQS 580 4Matic+ has 524 hp
Then the provisional top model, the Mercedes EQS 580 4Matic+. As the name implies, it has four-wheel drive. Its two engines together produce 524 hp and 855 Nm, which enables a sprint to 100 km/h in 4.3 seconds. As with the EQS 450+, the top is limited to 210 km/h. The range of the EQS 580 with 107.8 kWh battery is more than 600 kilometers. There will also be versions of the EQS with a 90 kWh battery.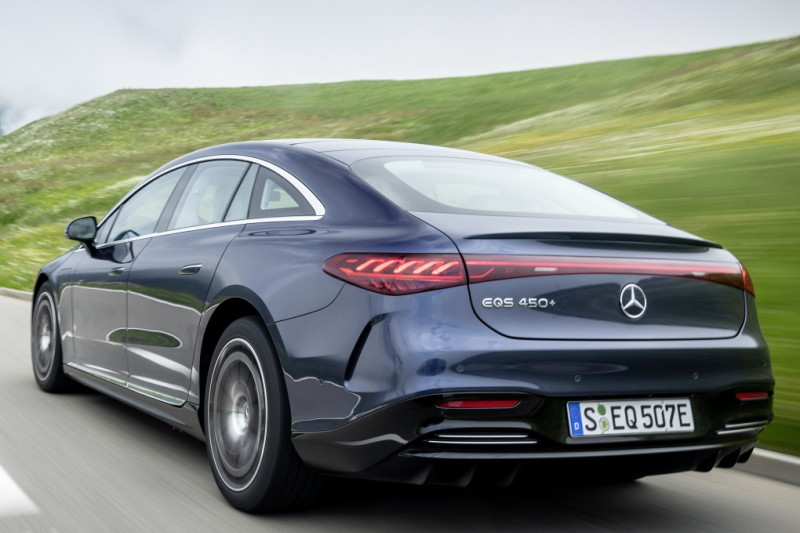 Most streamlined production car in the world
How did Mercedes manage the impressive range of the EQS? Among other things, by optimizing the body of the limousine aerodynamically. With a drag coefficient of just 0.20, the EQS is the sleekest production car in the world. Its smooth four-door coupé-like appearance makes the car appear smaller than it is. Because in reality the EQS is a huge car. It is 5.21 meters long, almost 2 meters wide and weighs 2585 kilos. To make it a bit manageable, it has a 4.5 degree steering rear axle as standard (optional even 10 degrees!).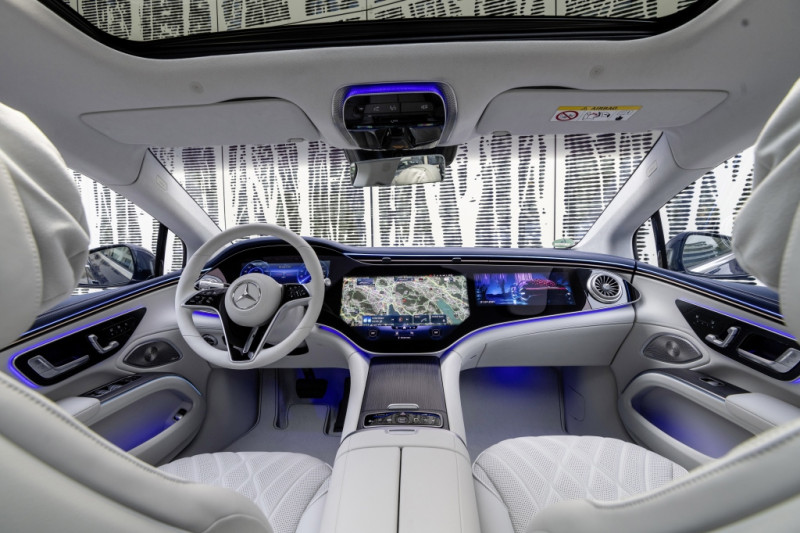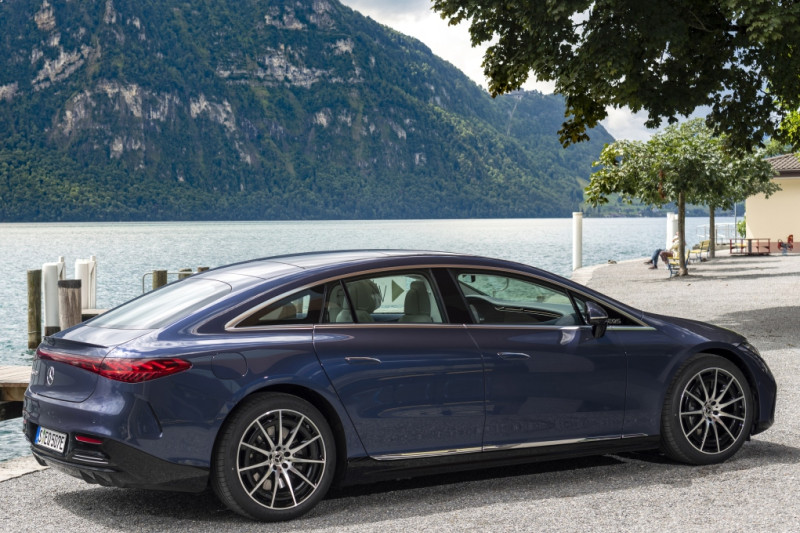 Optional Hyperscreen covers the entire dashboard
We wrote about the interior of the EQS before. Buyers can choose from two different dashboards. The first is strongly reminiscent of the dashboard from the new Mercedes S-class, with a large 'loose' screen that rises obliquely from the center console. The so-called Hyperscreen is optional, which actually turns the entire dashboard into one display. It consists of a central 17.7-inch screen, with two 12.3-inch screens on either side.