Leasing companies and business drivers are still the main buyers of electric cars. Yet more and more private individuals are considering purchasing an EV. In addition, private lease is an attractive option, because you do not have to cough up a huge amount at once. For cars with a purchase price of up to 45,000 euros, you also receive a purchase subsidy of 3,350 euros. Only the basic version of the EV6 is eligible for this.
Price and mileage determine lease amount
The private lease amount for an electric car is also mainly determined by two factors: the price of the car and the number of kilometers you cover each year. In addition, the lease amount can vary per provider, but for the time being Kia itself is one of the few providers where you can go for the private lease of an EV6.
How much does private lease of a Kia EV6 cost
Private lease of a Kia EV6 is possible at Kia from 579 euros per month. For that amount you can drive 10,000 kilometers annually for five years, in the basic EV6 with the battery pack of 58 kWh. It has an official range of 394 kilometers and a maximum charging capacity of 180 kW. Because the basic EV6 with its tax value of 43,505 euros falls under the subsidy limit of 45,000 euros, you can deduct 3350 euros from the lease amount. That is, if you opt for a lease period of at least 48 months. The 3350 euros will then be deposited into your account in monthly portions. In 60 months that will save 55.83 euros per month, in 48 months that is 69.79 euros.
Extra kilometers cost extra euros
You can choose any color, as long as it is Runway Red. For all other colors there is an additional 10 euros per month. Not doing as many miles as you expected? Then you get back about 5.5 cents for every less driven kilometer. Do you like the EV6 so much that you go out more often? Then it will cost you about 11.8 cents extra for each additional kilometer driven.
How much more do you pay for a Kia EV6 with the large battery pack?
Would you rather have a Kia EV6 with the larger battery pack of 77.4 kWh? We can imagine that, because it will theoretically take you 528 kilometers on one battery charge. However, this version with its fiscal value of 51,005 euros (consumer price 52,095 euros) is not eligible for government support. For a five-year contract you will therefore lose at least 659 euros per month.
You can also shorten the lease period, but then the monthly amount will increase considerably. For a period shorter than 48 months, private lease becomes very expensive.
Private lease amounts Kia EV6 (58 kWh, red, 10,000 km/yr)*
60 months 579 euros/month (-55.83 = 523.17 euros/month)
48 months 629 euros/month (-69.79 = 559.21 euros/month)
36 months 704 euros/month
24 months 849 euros/month
Private lease amounts Kia EV6 Plus (77.4 kWh, red, 10,000 km/yr)*
60 months 659 euros/month
48 months 709 euros/month
36 months 769 euros/month
24 months 969 euros/month
* At 15,000 km per year, the monthly amount increases by 25 euros, an annual mileage of 20,000 will cost you 50 euros extra per month.
If we divide the consumer price of the basic EV6 minus the subsidy by 60 months, we arrive at a considerably higher amount: more than 687 euros. And then there are the costs for maintenance and insurance. Given the 7-year warranty, the maintenance costs can probably be reduced to a new set of tires for about 600 euros (10 euros/month) and six annual servicing. With a no-claim discount of 75 percent, you will lose about 3100 euros in five years on an all-risk insurance, or 52 euros per month. On the other hand, the car is probably still worth around 18,000 euros after five years.
Monthly costs with purchase and Kia EV6 (58 kWh, red, 10,000 km/yr)**
Purchase amount: 687 euros/month
Insurance: 52 euros/month
Maintenance and tires: 30 euros/month
Total: 769 euros/month
** Duration of use 60 months.
With a residual value of 18,000 euros, we may deduct 300 euros per month. For example, with a useful life of 5 years (60 months), we arrive at a total of 469 euros per month when purchasing the cheapest Kia EV6. That is 54 euros less per month than the lowest possible private lease amount. If you have to finance the car, there are of course additional costs and the difference with private lease becomes smaller, but the price gap is not completely closed. In short, buying is cheaper. But if you do not make too many kilometers and you opt for a Kia EV6 with a subsidy, then private lease is not a bad option.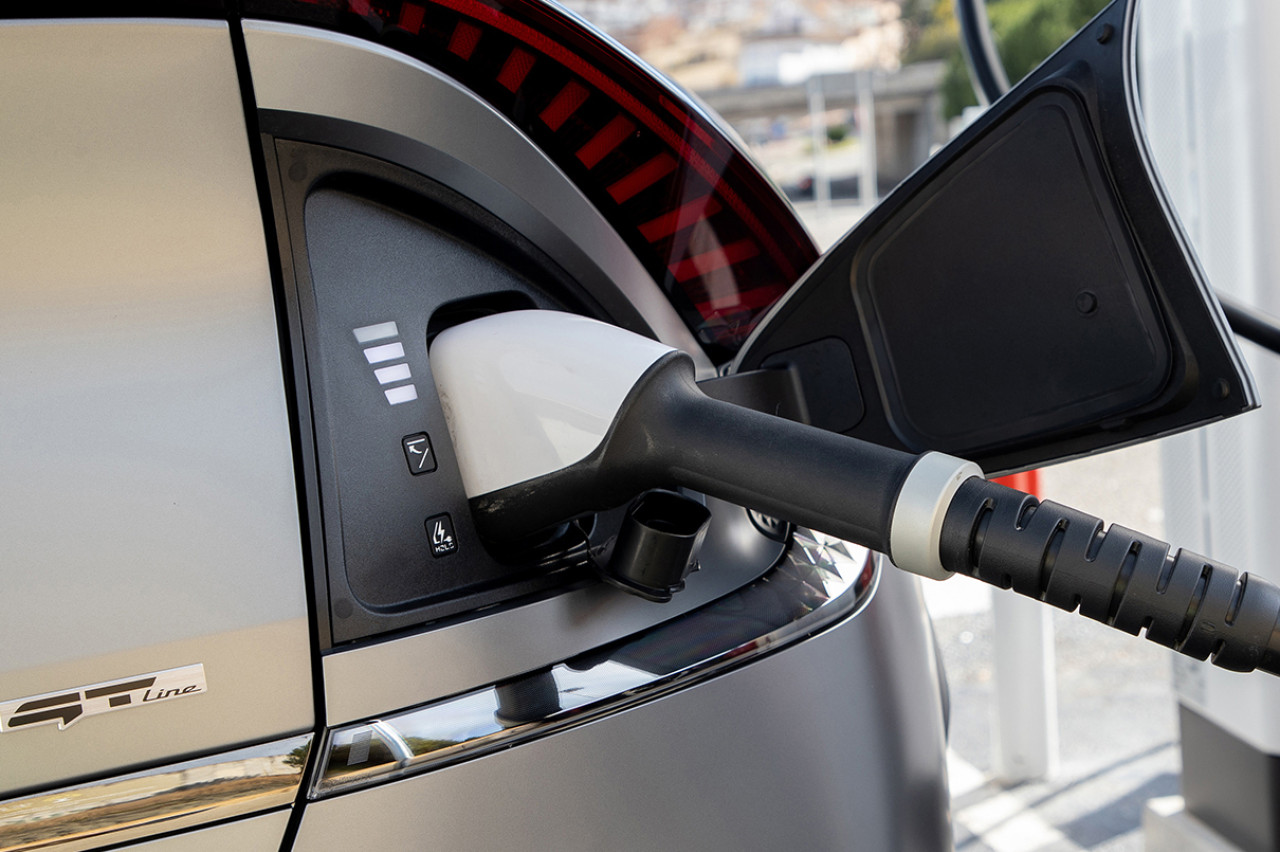 How much does a charging station for an electric Kia cost?
With a private lease of a petrol or diesel car, a considerable amount is added to fuel costs per month. Of course, the charging current for an electric car is not free either, but if you mainly charge at home and at work, you will spend roughly half as much for an EV per kilometer as for a comparable petrol car. On the other hand, you prefer to have your own charging station in front of the door. You can also turn to Kia for this; from more than 1300 euros they provide you with a home charging station. Depending on the number of meters that have to be dug to connect the charging station to the electrical installation of your house, that amount can add up considerably.