Like so many icons of the 1980s – take the Audi Quattro, BMW M3 and Lancia Delta HF Integrale – the Ford Sierra RS Cosworth born of racing. To homologate the Sierra for Group A racing, Ford had to build a certain number of production cars. More than five thousand units of the Sierra RS Cosworth left the factory, followed by another five hundred units of the Cosworth RS500.
Ford Sierra RS Cosworth with signature whale tail
The latter has a four-cylinder turbo engine with 227 hp. In standard form, the Sierra RS Cosworth does not go beyond 207 hp. Typical of the fast Ford are the whale tail wing on the back and the on/off character of its blown power unit. The Cosworth's turbo lag is huge, with top power coming in quite suddenly at 6000rpm.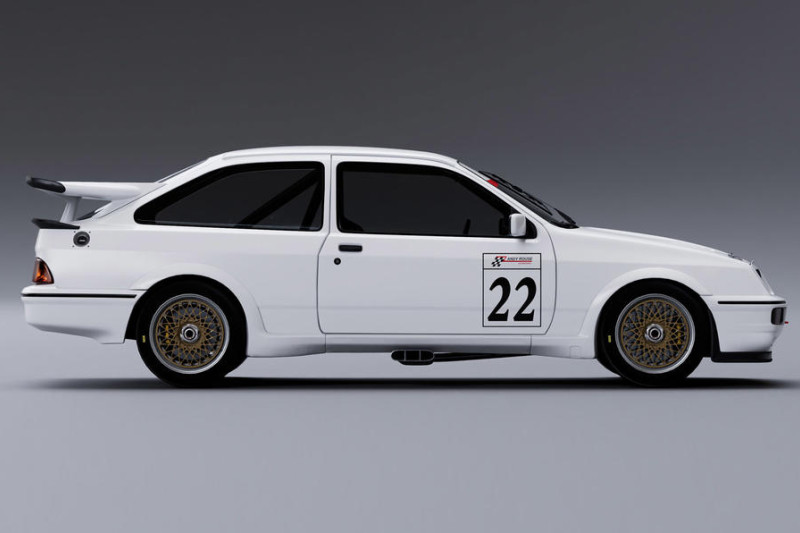 New Ford Sierra RS500 with almost 600 hp
This new Sierra is not an RS Cosworth, but an RS500 Group A. CNC Motorsport AWS builds it to the exact specifications of the race car that dominated the British Touring Car Championship in the 1980s. The power is provided by a turbo four-cylinder with an output of 583 hp, which drives the rear wheels via a five-speed manual transmission.
Only three copies, for £185,000 each
CNC Motorsport AWS will only build three copies of the Ford Sierra RS500 Group A, for a minimum price of 185,000 pounds (215,000 euros). They use three original Ford Sierra bodies that have been in storage since the 1980s. The new Cosworths are seen by the motorsport organization FIA as classic race cars and are allowed to participate in historic events.