About 60 years ago, Renault put the R4 into production, in fact a more luxurious and mature alternative to the then immensely popular Citroen 2CV. Unlike its compatriot, the Renault 4 had a four-cylinder engine and had a large tailgate or 'fifth door'. This put the R4 about ten years ahead of the wave of front-wheel drive hatchbacks that erupted in the 1970s.
Only the engine in the Renault 4 was still longitudinal, while the later hatchbacks almost all had a transverse engine. It did not stand in the way of a long and successful career. More than 8 million units of the Renault 4 were sold in more than 30 years.
Open-air hotel room in an old Renault 4
It is almost certain that the Renault 4 will return in a modern guise. As an electrically powered retro car, just like the officially announced Renault 5. To put the birthday R4 in the spotlight, Matthieu Lehanneur signed the Suite No. for Renault. 4. According to the press release, the design brings the worlds of cars and architecture together in a kind of open-air hotel room. The partially openwork variant of the Renault 4 reminds us more of the doorzon version of a moving tiny house.
Body parts made of translucent plastic
Nothing has been changed on the basic model, but part of the sheet metal has been replaced by transparent polycarbonate and translucent solar panels have been incorporated into the roof. These ensure that the battery pack of the electric motor is charged when the driver takes an afternoon nap in the bed behind the front seats. Those seats and the dashboard are covered with silk, in a sparkling yellow color.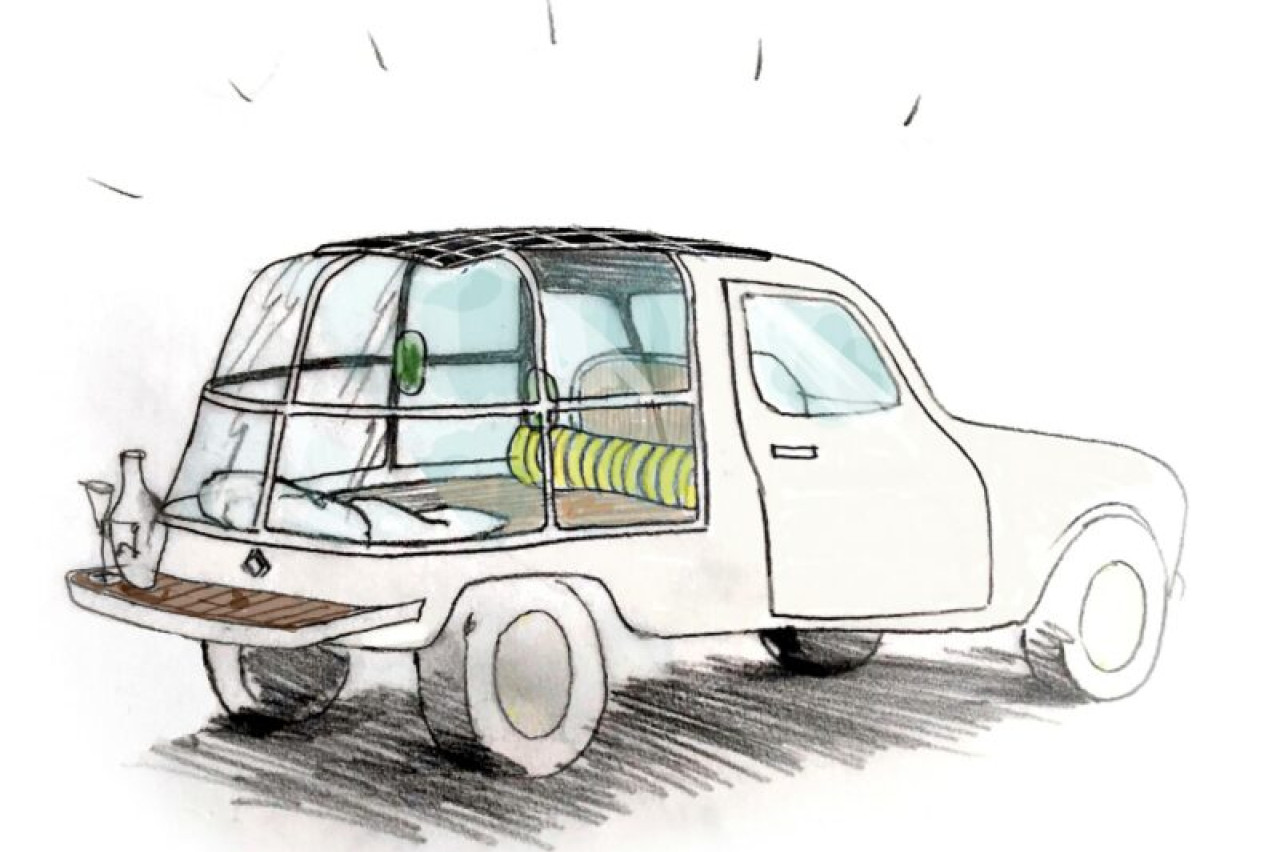 The headlights and taillights have kept their original looks. The grille, on the other hand, has given way to a somewhat strange-looking, wrinkled aluminum panel. The wheels are completely covered by flat, aerodynamic covers. An extendable wooden bench is included in the rear of the car. Under the shelter of the opened tailgate, you can enjoy a glass of wine with just the two of you and eat a baguette with brie.
From November, the Renault Suite No. 4 to admire in the Atelier Renault, on the Avenue Champs Elysées of the French capital. From 21 to 25 January the design can be seen on a housing fair in Villepinte, north of Paris.