Tires mean little to most people; they are round pieces of rubber under a car, of which you have to keep an eye on the profile. Many motorists still know that there are summer and winter tires, but then the ready knowledge quickly ends. So if you've decided to no longer change your tires twice a year, how do you choose a suitable all-season tire?
Goodyear invented the all season tire
You can go by seniority, for example. The American tire brand Goodyear is the inventor of the all-season tire. In 1977, the Goodyear Tiempo was the world's first all-season tire. It was made of a special rubber compound that ensured optimum grip, even on wet surfaces.
Most wins in all-season tire tests
You can also dive into the magazines. Car magazines and websites regularly publish summer, winter or all-season tire tests. And that's where Goodyear comes in. Between 2013 and 2020, the company took the most victories in all-season tire tests of all tire brands.
Goodyear Vector 4Seasons all season tire of the year
At the end of 2020, the Goodyear Vector 4Seasons Gen-3 was named all season tire of the year by Germany's Auto Bild and British Tire Reviews. It was renowned for its high wear resistance and convincing performance in all conditions. According to the jury, the Vector 4Seasons guarantees dynamic driving performance, even in wet or winter weather.
Snow Grip, Dry Handling en Aqua Control Technology
The tire achieves this thanks to three key technologies: Snow Grip Technology (for better grip on snow), Dry Handling Technology (for shorter braking distances on dry roads) and Aqua Control Technology (for better resistance to aquaplaning.
Get four Goodyear tires, pay three at Euromaster
Another reason to choose Goodyear's all-season tires is Euromaster's 'get 4 = pay 3' promotion. Until June 21, you only pay for three all-season tires at Euromaster if you order a set of four. You can easily order them online via the Euromaster web shop.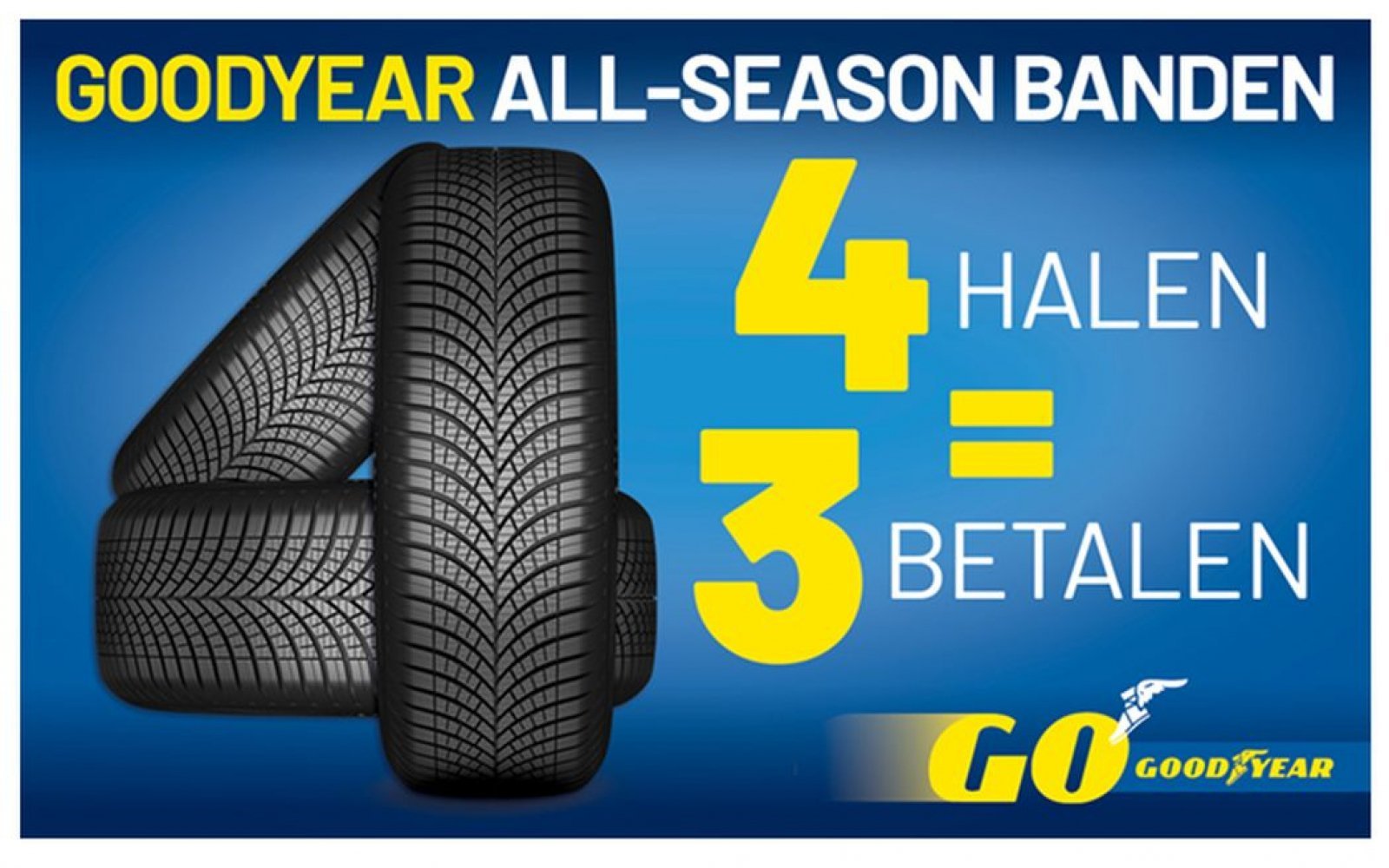 * The above promotion is valid until June 21.