If you want to make it in MotoGP, you have to be solid. Takaaki Nakagami proved this during the second free practice for the Grand Prix of Portugal, the third of the season. The Japanese from LCR Honda crashed hard after crossing the finish line when he was driving more than 300 km / h. Nakagami slid tens of meters on the asphalt, while his engine is still intact. But do not be sad. He was patched up at the local medical aid station and drove 20 minutes later to a time good for the top ten. Punishment.
The images: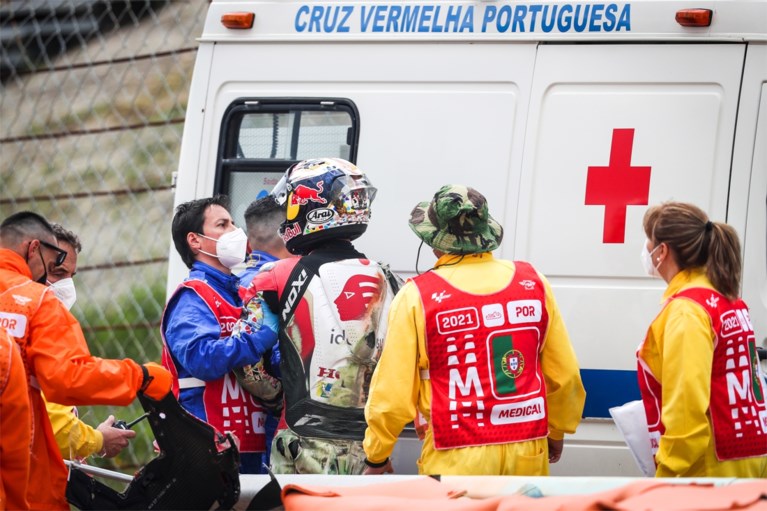 Márquez celebrates return after months of injuries
Six-time MotoGP world champion Marc Márquez made his comeback in MotoGP on Friday at the practice of the Grand Prix of Portugal in Portimao. The 28-year-old Spaniard was sidelined for about nine months due to a complicated arm fracture. He was operated on several times.
In practice, Márquez set the sixth fastest time. "It is difficult to put into words how I feel," he then said via social media. "But I think very happy is the best description." The Spaniard has 82 GP victories to his name.
Márquez broke his right upper arm in a crash in the first race of the previous year in Jerez on July 19. He underwent surgery, but forced the plate placed in his arm when opening a window. A second intervention was therefore necessary. He then sat on the side all season and had to watch his fellow countryman Joan Mir dethroned him as world champion. Márquez also missed the first two races of this season in Qatar.